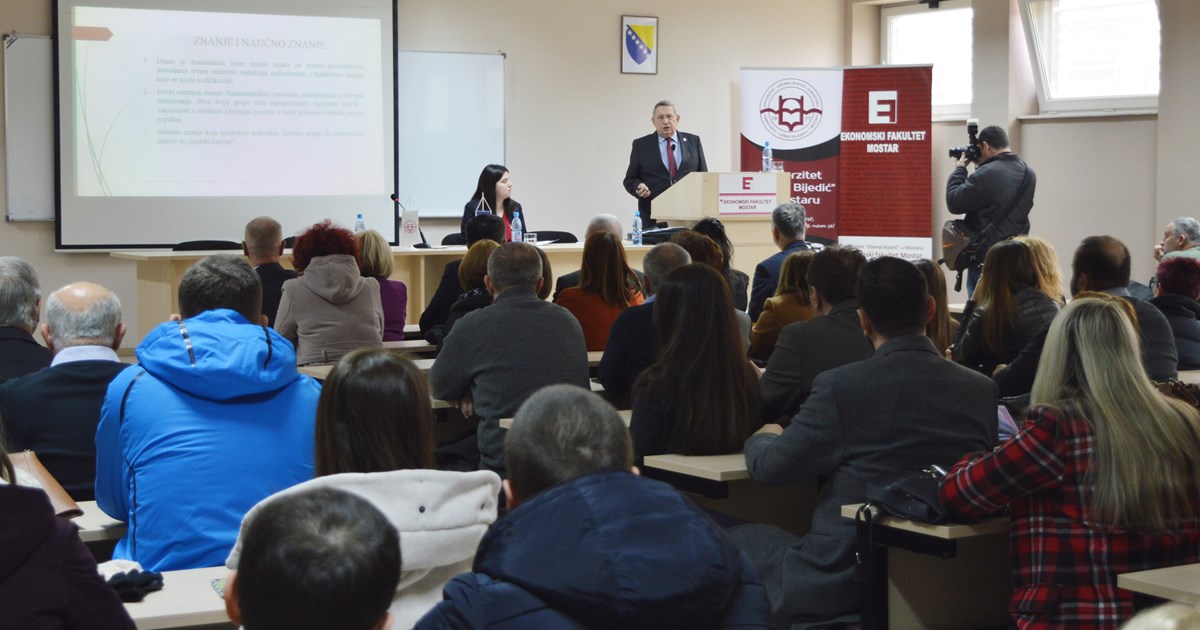 Public Lecture by Academician Trifković held at UNMO
The distinguished President of Academy of Science and Arts of Bosnia and Herzegovina (ANUBiH), Academician Miloš Trifković, held a public lecture at Džemal Bijedić University of Mostar on January 29, 2019.
Within the lecture titled "The Status and Perspectives of Science in Bosnia and Herzegovina", Academician Trifković presented a thorough analysis of the current challenges in the field of science and education, and emphasized a number of measures which can be taken on the basis of the current state of affairs.
Having in mind that this topic is of immense importance for the present and the future of Bosnia and Herzegovina and for its faster inclusion in the developed world, it is essential to continuously ponder and bring forward ways to improve the current status of education and science.
The lecture received a considerable interest of audience; the lecture room of Faculty of Economics was almost full. Hence, in spite of the numerous challenges the academic community faces nowadays, we believe that there exists a critical mass of proactive individuals who are aware that knowledge, science and education are the key to individual and collective progress.
With such a optimistic note, Džemal Bijedić University of Mostar greets its 42nd Anniversary. The program of two-week celebration is scheduled to start next week, so we kindly invite the interested public to check our website regularly and follow our Facebook page for additional information about the upcoming events.